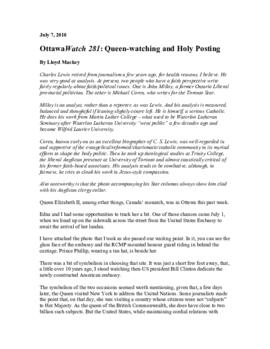 OttawaWatch 281: Queen-watching and Holy Posting.
CA TWU S07-0281-2010-07-07
Unidad documental compuesta
July 7, 2010

Parte deLloyd Mackey fonds.
Article synopsis: Discusses Queen Elizabeth II visit to Ottawa and the symbolism of the monarch's visist to New York to address the United Nations. The article also discusses the results from Write! Canada Christian writers' conference held-June in Guelph, Ontario.