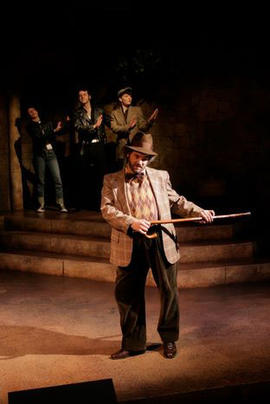 "Taming of the Shrew" theatrical production.
Coll. 08-2022-01-0371
Item
March 21-31, 2007
Item is an image of the theatrical production "Taming of the Shrew," featuring four characters in a dimly lit room. The individual in the foreground stands holding a cane parallel to the ground at waist height. The three individuals in the background are standing in matching positions atop a set of three stairs; they are leaning slightly to the side and holding up both hands to the opposite side, as if pushing something undesirable away.