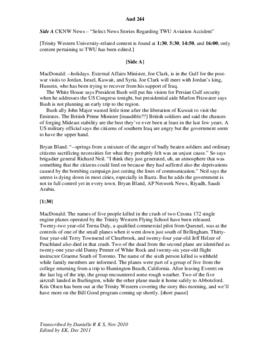 Radio Coverage - Aviation Accident
Digitized sound file not attached, due to copyright restrictions
Audio 244a consists of the following recording:
Title: CKNW News – "Select News Stories Regarding TWU Aviation Accident"
This recording contains several news stories taped from a radio program, including coverage of the Trinity Western University Aviation Accident. There are additional news stories unrelated to TWU on this recording. TWU coverage is at [1:30], [5:30], [14:50], and [16:00].
Notes provided by BF, student assistant, 2010/2011
Audio cassette has no label aside from a post-it note attached to one side, which reads "Radio Coverage"