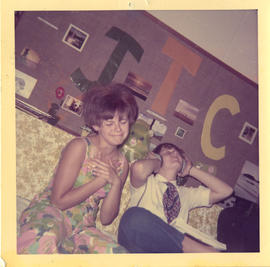 Students hanging out in residence.
Coll. 08-2022-01-0006
Item
196-?
Item is a photograph of two students seated on a floral pattern couch in a student residence both with their eyes closed. The student in the foreground wears an abstract design jumpsuit in pink, green and white and their hands are crossed over their chest. The student seated beside them is leaning back with their hands holding headphones over their ears. This student is wearing a white shirt, tie and blue pants. In the background on the bulletin board are the letters JTC for 'Junior Trinity College".