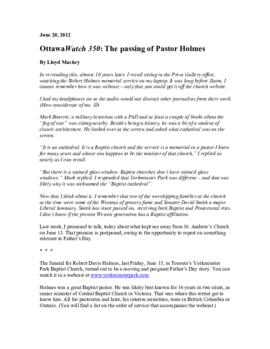 OttawaWatch 350: The passing of Pastor Holmes.
CA TWU S09-0350-2012-06-20
Unidad documental compuesta
June 20, 2012

Parte deLloyd Mackey fonds.
Article synopsis: Reflects on the life and funeral of Robert Davis Holmes, who was a pastor at the Central Baptist Church in Victoria, BC. In particular, the funeral was officiated by his son, Peter Holmes who was the lead minister at Yorkminster Park Baptist Church and the choir sang the McMaster Hymn, also known as Jesus Wondrous Saviour. The significance is that father and son pastored at opposing Baptist groups, and the McMaster Hymn portrayed a coming together after a theological split.